---
Updates from the Unpaid HGN Intern (not a blog)
(click here to read 2004 updates)
Sunday, November 12, 2006
Quinn W. Shagbark has completed a new album, recorded quick fast in a hurry in a house where not much noise was allowed, and which harkens back to the earliest QWS recordings.  It will be available soon.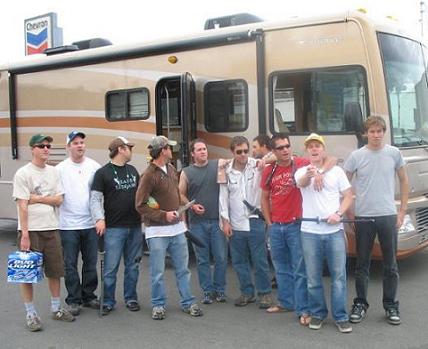 Monday, October 2, 2006
Click below to hear a newly-recorded QWS version of If You Won't Leave Me I'll Find Somebody Who Will.  Anyone who can prove they know the original author of this ditty without help from the internet will receive a photograph of an autographed Eddie Money T-Shirt.  Thank you.
Tuesday, July 25, 2006
A big sloppy congratulations to Shagbark family friends Caroline & Brian!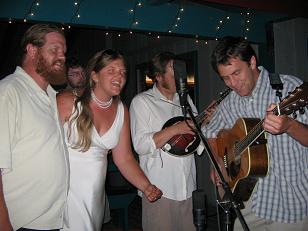 Tuesday, May 16, 2006
The Unpaid Intern is on strike.  All Shagbark resources have been temporarily rerouted to the recording of the debut album of The Airresponsibles.
click here for The Airresponsibles website
Thursday, March 23, 2006
Quinn W. Shagbark has released another new album!
Played Your Rhythm is a collection of cover songs and has been made available for free download on this website.  At this rate, Barry Bonds' single-season record appears well within reach.
click here to stream or download Played Your Rhythm free
Monday, March 13, 2006
Quinn W. Shagbark's new album, Shameless, is now available for free. 
Friday, March 10, 2006
Hello from London Quinn W. Shagbark . Great name. My son is named Quinn Westhead and I now call him Shagbark. I think it is a brilliant name, as well as your music. Just thought I'd tell you. Have a nice weekend,
--received today from John Henry Westhead of the band Shed Dwellers
(AKA "Olaf the Heavy Metal Singer" from the film Clerks)
Thursday, February 16, 2006
In the absence of anything else worth sharing, here are three songs ripped off from other artists:
Sunday, January 29, 2006
In lieu of any real news, here's a link to some rare and unreleased Quinn songs from a session last fall.
click here for aforementioned rare stuff
Tuesday, January 17, 2006
Click below for a rare glimpse into the recording session that took place on December 27, 2005, involving both Quinn W. Shagbark and Floydd H. Shagbark for the first time in 7 years, on a night when Shagbark family friend Kevin Krupitzer was detained due to complications regarding his teeth.
Friday, December 30, 2005
Everyone's back in the country now.  There was some uncertainty for a while there but it looks like everything's going to be ok.  Something might happen again, but nothing is happening right now.  Many kind thanks to everyone who supported Quinn W. Shagbark in 2005 by spending perfectly good evenings at shows, blowing perfectly good money on CDs, and wasting precious minutes reading the drivel on this website.
The Airresponsibles play January 12 at the Blue Moon, and everyone knows they've got a little Quinn in their spin.  As a final 2005 gift, we leave you with this:
Click here for new year's gift
Tuesday, October 4, 2005
Strange things are afoot.  The UI has been dispatched to South America.  There will be no updates for some time to come here.  For the closest thing to an update, go here:
http://outonmyass.blogspot.com
Friday, September 30, 2005
From: Jonathan Epstein <info@jonathanepstein.net>
To: michael c----- <---------@hotmail.com>
Subject: Question Re: Alice Cooper
Date: Fri, 30 Sep 2005 08:19:35 -0400

Supergroup opens for nobody, including geniuses like Alice Cooper or Cheap Trick.  Maybe we'd open for Styx, but only if they got the old line-up together  again because the combination of DeYoung's voice on Shaw's songs is incomparable. That new guy's a hack.

Thanks for asking, though.


>-----Original message-----
>From: "michael c-----" --------@hotmail.com
>Date: Thu, 29 Sep 2005 19:09:21 -0400
>To: info@jonathanepstein.net
>Subject: Question Re: Alice Cooper
>
> > Are you the guys that opened for Alice Cooper here in Ft. Lauderdale the
> > 29th ?
> > ...michael
> >
> >
Thursday, September 22, 2005
Finally saw the Arcade Fire last night which was holyshitoverwhelmingly good and the biggest most hair-raising vocal noise I've heard coming from a stage since my folks dragged me kicking and screaming to see Les Mis when I was a kid only to later have to ground me for stealing their copy of the soundtrack (on cassette).
During the opening band I heard a young women in front of me inconceivably mutter, with absolute disgust, "It's like a jam band, except with jazz instruments..."
Then I lost my cool and went on an arm-waving, spit-hurling, outdoor-voiced rampage against a perfectly likeable fellow from Mississippi who (perhaps in jest?) said something even *more* inconceivable to me when I started rambling on about The Last Waltz for the 4,897th time this month, which was, "Dude, fuck The Band..."  For a minute I think he thought I was going to hit him.
Not a bad night.
Wednesday, September 21, 2005
Went to see Uncle Neil last night and it was predictably bombastic and brilliant.  Ended up waiting out the ensuing traffic jam at a Mexican restaurant which in true Twilight Zone fashion turned out to be having a Neil Diamond karyoke tribute night.  Last thing I remember is hoisting up hands clasped with complete strangers and swaying violently back and forth to "Song Sung Blue."  Better night than anyone could hope for.
In other news, Quinn dropped by HGN for a couple hours yesterday morning and recorded a few songs.  These are far from polished but we're throwing them up on a new section of the site called the dl page which will be flying relatively under the radar and housing some of the b-sidery we crank out from time-to-time.  Check it out by clicking here.
Thursday, September 15, 2005
Hey all.  Been a while since I rapped at ya.  Lots of exciting things to discuss.
Album sales have been good, and as promised all profits so far have gone to a New Orleans relief fund.  Regardless of anyone's opinion regarding how well those funds are being used, it still seems like the right thing to do.
The band had a great show at the Blue Moon (Quinn actually showed up to play) and another one coming up at the Mars Bar on Friday with Estocar.  Also saw The Cave.  Won't spoil that one for you by talking about it.  Rescued a dog 20 miles into the back country of the Goat Rocks wilderness on the PCT and, thanks to superhuman efforts by The General, were able to locate it's owner.  I give you our fun little pal, The Glove: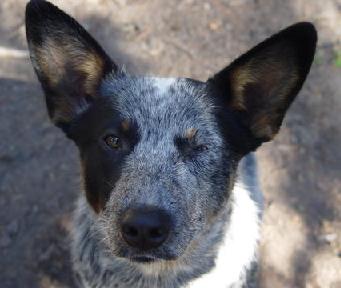 We blew it by not videotaping the tearful, joyful reunion. 
In other news, the critics at GarageBand.com have selected another Quinn W. Shagbark song to be featured as "Track of the Day" on the Indie Rock page of their site.  Click below on Tuesday, September 20 to check it out:
They'll be raging all day long to "Indian Bones," off the new album, which features the first-ever guest appearance on a Shagbark song by Ian Jacobson.
Is this Terry Reid guy for real?  It kind of sounds like it.  Part Plant, part Big Star.  Speaking of which, it's important to note that Chris Bell was undoubtedly the real deal, as evidenced by his insanely good solo album "I Am The Cosmos."
Go to Sonic Boom right now and buy that thing, and ask them to order it if it's not there.  Then, also, ask them to order some Peter Laughner albums - anything with the "Sylvia Plath wasn't good at math" song.  And then, while you're at it, pick up a copy of "I'll Shoot You Ace I Swear To God."
And then reward yourself with a nice nap.  Tivo The Price Is Right.  Eat some Fruit Loops.  You deserve it.
Tuesday, August 23, 2005
Due to the fact that there are a billion things going on in the next two weeks HGN has been forced to schedule the initial push to force copies of I'll Shoot You Ace I Swear To God into the hands of unwitting consumers for the same day UPS is supposed to deliver the albums.  Assuming all goes well and the CDs arrive unharmed and un-messed up, there will be a gathering of the minds at Tony's (AKA Bert's) Bar in Wallingford on Thursday, August 25 at 9:00 pm.
(click for a map to erotic bakery which is right next to tony's (aka bert's))
There will be no performance, no band, no music, and probably no Quinn, for that matter.  Instead, it'll just be a handful of strangers hanging out drinking a couple beers ($2 PBRs and $1.50 cans of Lucky, I think) and shooting the bull with CDs available for anyone who's interested.  There will probably be an argument and a bet.  There will probably be a long-distance phone call.  There will probably be pretzels. 
Come and go as you please, drop in, drop out, tune down, do whatever.  Schedule is for 9pm-12pm but things may very well go later.
Hope to see ya's.
Monday, August 22, 2005
RIP Robert Moog.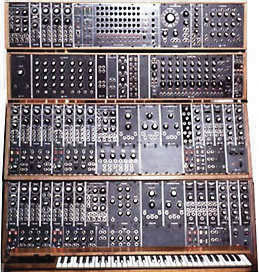 Tuesday, August 17, 2005
mmmm....finally, Supergroup's performance at The Last Schmaltz (Epstein's going-away concert) is available for consumption.  The most ridiculous of many utterly ridiculous Supergroup performances.  Listen at your own risk:
don't click here if you're looking for decency
Monday, August 16, 2005
Tim Treadwell was a complete moron.  Quinn's album is at the printer.  Blade III wasn't bad in a post-oral surgery haze.  Roger & Me wasn't as good as I remembered it.  Special sneak preview of the album in the mp3s section.  Fell asleep during Kung Fu Hustle which bums me out -- my fault, not the movie's.  Some doc about Nolte and Sean Penn in a Sam Shepherd play was excellent in a post-oral surgery haze.  Album should be available next week.  Aristocrats was quite good.  Ramones and Metallica documentaries good but not as good as hype.  Legendarily unreleased Heather Graham movie an absolute bust no pun intended.  For completists only.  Details forthcoming on some kind of release gathering.  Live show at the Blue Moon Sept. 2.  Sleepy workers no mas but Stealth still playing at a theater near you.  Last Days was miserable -- worst adaptation of a newspaper column ever and I can't believe they changed the ending.  Ramones, ultimately, more loveable than Metallica. 
Monday, August 1, 2005
It has come to our attention that an advance copy of "I'll Shoot You Ace I Swear To God" was recently leaked illegally and is currently up for sale on Craig's List. HGN officially disavows itself of any affiliation with the person conducting this sale as well as his derogatory remarks towards Finland. That being said, to the person in question: We welcome your attempt to spread the music of Quinn W. Shagbark and invite you to make as much money hawking bootlegs as you can. We sure as shit haven't made any money selling the real thing. Let us know if you're actually successful and we'll be sure to get you a job.
Wednesday, July 27, 2005
The Airresponsibles show has come and gone and, aside from brief incident where Quinn blindly hurled an empty beercan into the audience in an attempt to retaliate against a bottle that was tossed onstage, catastrophe was more or less averted. A pretty typically good rocking show which brought to mind those Faces tunes that Rod Stewart was too cool to sing on. Attention now turns to the final details of the new album. If all goes well it'll be off to the presses in a week or two and available in August.
In the meantime, go to Jonathan Epstein's site and buy a copy of "Scenes From Tiny Town," an outstanding release in it's own right which is even further cool-ified by a cover of Quinn's "Farms Made of Stone."
http://www.jonathanepstein.net
Furthermore, it's important that you go check out the updates being written by the guy who books bands at the Blue Moon.  In addition to being super-entertaining (in a world where "blogging" should be a dirty word) it's a great reference guide to some bands you never heard of. 
Go here:  http://bluemoonseattle.blogspot.com/
A brief sample:
June 9, 2005.  One of those rare nights where I think I find two bands who are soul brothers. The Lushtones go on first, playing a mix of classic rock and dirty songs aboiut vasectomies and interstate 69. Chicken Starship is way more surreal, with a rubber-faced frontman and everyone wearing chicken costumes. They actually do a song called "How To Get To My House From Issaquah" that's pretty much just a series of directions. Nothing heavy tonight, but a lot of fun.

Thursday, July 14, 2005
Today's tootsie-roll center comes from QWS bandmember Ian Jacobson, who was somehow conned into bringing his guitar along to a corporate campfire company retreat.  This in response to the question "how did it go last night?"
Dude... we rocked like we've never rocked before:
- You are my sunshine
- On Top of Spaghetti
- I've been working on the Railroad
I was taking all requests and slaying them, each in their own turn, each in their own way...we had a songbook and everything.
I'm so ashamed.
Poor guy. 

Tuesday, July 12, 2005
At long last, I'll Shoot You Ace I Swear To God has been completed.  I'll spare you all the torture stories about what I went through to whittle this thing down into something that vaguely resembled music, but I can assure you it was no picnic and I received little help from Quinn, who's been busy playing with the Airresponsibles.
Artwork is being pulled together and we're expecting a release date in early August.  In the meantime, here's a track-by-track description of the album from the man himself.  Free popcorn to anyone who has the slightest clue what any of this means, but he insisted on posting it:
Blankets:
"God hath hereby cleared our title to this place." - John Winthrop, 1634
Things We Buried:
This is a true story about a large group of people who used to live where I live.  They left and now they're gone.
A Picture Of Another Thing:
I was waiting for a bus in Birmingham, Alabama when a manhole cover lifted slightly to reveal a rheumy pair of eyes in the darkness thereunder.  A ragged voice hissed the lyrics of this song to me and then slid the cover back into place.  I copied the words verbatim.  The music came from a Deaf Boy Danielson banjo tune.
Roadside Attraction:
Floydd sent me a postcard from the place where this happened.  On the back he wrote, "This keeps happening." 
Yardsale:
Have you ever had a garage sale and found yourself charging $1.50 for a bunch of stuff that you stole from your cousin?
Indian Bones:
It's generally accepted that Mark Twain accurately absorbed, reproduced, and incorporated no fewer than seven distinctly different dialects in the writing of "Adventures of Huckleberry Finn."
You Have Died Of Dysentery:
Commonly spoken into the mirror on the morning of one's thirtieth birthday.
I Want To Party On Your Balony:
Climbing is a way of burying things that won't fit underground.
Balconies are a place to party.
Plasterglass:
"Oops..." (hand smacks forehead)
Grunge Is Dead But Gordy Still Hates Himself:
Will LaChance ever get his act together?  Will it ever stop raining on KEXP?
Bloody Noses:
Original titles for this included "Why Do We Always Eat at the Rat-Infested Shithole?" and "How To Get Out of Bed, Parts I & II." 
Wednesday, July 6, 2005
Saw Me And You And Everyone We Know last night and immediately wanted to see it again.  This should be required viewing for anyone with a pulse.  Please take a break from selling your soul on the cheap and go check it out.  Not a moment is wasted.  It's damn near perfect.
Wednesday, June 29, 2005
Sleepy Workers laid waste to Tost last night.  Inspirational as always.  Dark Sergeant is playing what might be their last show tomorrow night at the Green Room (next to the Showbox.)  No self-respecting person will miss that.
Thursday, June 16, 2005
Our worst fears have been realized.  Those wretched bastards from The Airresponsibles have drawn Quinn back into their fold and they already have a show booked.  This doesn't bode well for the brief fits of clarity during which Quinn has actually been able to nearly finish the new album.  I'm afraid we're about to lose him again and I'll be left to tie the final knots myself.  I am, however, for the first time, actually thinking it might be possible.  The track list is nearly done and songs like "You Have Died of Dysentery" and "Grunge is Dead But Gordy Still Hates Himself" have shaped up into something that actually resembles music.  Of course, I'm certain I'll get zero credit for salvaging these ridiculous things.  Ah well. 
Built To Spill tonight.
Go here and see what a mess is about to be made:  http://www.myspace.com/theairresponsibles
Monday, June 6, 2005
Pretty funny story:
I convinced Quinn to bring Eric Webb in the other day to sing some background vocals on a song called "I Want to Party on your Balcony" for the new album. It took some doing, as no one has ever appeared on a Shagbark album but Quinn himself and he's a bit of an egomaniacal control freak. I finally got him to admit that the song needed a little something extra and we called in Webb.
We scribbled down the lyrics and played it for him a couple times and then Quinn took a position by the mixing board with his arms crossed, obviously perturbed, glaring at the poor guy. Eric ran through a shaky take and then looked up to ask how it went.
"Actually," Quinn said, still gritting his teeth, "It was kind of puss."
Eric said, "Puss?"
Quinn said, "Yeah. It was kind of puss."
I slapped my forehead and wondered how I could have come up with such a stupid idea. This wasn't exactly the textbook way to coaxe a performance out of somebody.
Eric said, "OK, sorry," and then proceeded to bear down and nail the shit out of a fierce backing vocal on the second try.
Three cheers for psychology.
Friday, June 3, 2005
More exciting news about the new album is on the horizon, but for now please share in my obsession with the TomKat affair and then go read this review of Neil Diamond's live album, "Hot August Night," which is possibly the most brilliant thing I've ever read on the internet.  I'm not kidding about this.  Go read.  Now.
http://www.epinions.com/content_53726318212
Thursday, May 19, 2005
Condor Electronics still has our 8-track.  Good people.  Very laid-back.  No rushed hack jobs coming out of that place.
Saw Loudon Wainwright tonight. 
Been watching season one of the Dukes of Hazzard on DVD and am somewhat saddened that this is becoming a hip thing to do.  Cheapens the experience for me.  I grew up on that show.
John Prine on Saturday.  Big week.
Quinn's album is still a pain in the ass. 
All this filibuster talk makes me want to cook.
Tuesday, May 11, 2005
Shit.  Completely spaced out and missed the Titty show at the Tractor.  Knew this would happen.  Should have tattooed it to the cat.  Hopefully next time.
In happier news, Seattle's greatest band Sleepy Workers finally posted some mp3s on their website.  Go have a listen.  Then go see them live.  It doesn't get any better.
http://www.myspace.com/sleepyworkers
Tuesday, May 3, 2005
These updates are getting excruciating.  There's nothing to report.  Quinn's finally pissed off the band to the degree that I doubt there'll be any shows in the near future.  The songs for the new album are starting to trickle in but they're an absolute catastrophe.  Tracks and tracks and tracks of unedited takes that are so poorly recorded it's impossible to tell what's what.  Nothing's labeled.  The painstaking process of trying to mix a listenable album out of all this shit has of course fallen squarely on my shoulders since everyone else is concentrating on finding a way to get the new Swank album out and upgrading the HGN website (a task no one seemed the least bit concerned about until all this Shagbark drivel started rolling in.). 
Even worse, word is out that The Airresponsibles are back in town.  Quinn's contract *explicitly* states that he's not supposed to have anything to do with those guys but if it's true they've been playing I can guarantee he's been out there with them.  They have a cabin somewhere near Ellensburg that they built with parts from an abandoned Dairy Queen and they play some seriously rollicking wood-floor-and-a-whiskey-stain rock music in the vein of the Faces and The Band but they're absolutely impossible.  Complete craven degenerates and -- well -- Airresponsible as all hell.  HGN was about to sign them a while back until a pathetic incident where Quinn joined them onstage for a Christmas gig downtown that turned into the show business equivalent of watching a bowling ball being smashed into a baby goat's head over and over and over again.  A couple of them ended up in jail and the rest disappeared.  I thought that was the last of them but now it seems we might have to go through all this crap all over again.
At least John Prine's new album is getting better and better with every listen.  Not his pinnacle but very good.  That guy's never made a false move, and he never fails to make your heart grow dumbbells.
If anyone out there works at the MarketTime on Fremont, y'all should know that you're out of Vernors.
Monday, May 2, 2005
Randomly came across the website for a band called "Titty" the other night and was instantly reminded of those glorious days when you could catch Blood Bunny at the Sit & Spin or the Rainbow.  Those days are gone unfortunately but now is the time for Titty, it appears.  Seriously.  Check this out:
click here for Titty's website
They're playing next Tuesday at the Tractor, I think. 
In other news, Quinn turned one of the songs for the new album yesterday which he insists on calling "We Always End Up Eating at this Rat-Infested Shithole and Please Can You Tell Me Why That's So?"  It's nine minutes long with about twelve simultaneous guitar solos and nearly unlistenable.  Guess who gets to handle the task of editing it down and mixing out the extraneous crap?
Monday, April 25, 2005
How come nobody remembers what a great movie Kundun was?  All that yammering about the Oscars and the Aviator and how Gangs of New York wasn't that good but nobody remembers how amazing Kundun was.  I think we found a way to get "I'll Shoot You Ace I Swear To God" out by the summer. 
Wednesday, April 13, 2005
Show on Saturday went amazingly well.  Thanks to everyone who made it out, not including Quinn, who's been incommunicado ever since his tantrum last week.  Rumor is The Airresponsibles are getting back together.  So busy I haven't even listened to the new Beck.  Bellow's not really dead, I think they just hid him away so he could write episodes of 24.  If anyone knows Lorrie Moore please tell her I love her.  She might be in Tangiers.
Thursday, April 7, 2005
Quinn was supposed to show up at HGN and turn in the new album today but instead came tearing through the front office screaming some kind of intelligable nonsense about underwear and waving a 7-iron around with disturbing abandon.  Long story short, he eventually communicated his feeling that it would be a cold day in a hot place before he turned over the tapes, which he claimed to have burned in the yard upon realizing that they were sucking his soul out of his earholes.  Not the most pleasant afternoon I've ever had.  Wish I was still on vacation.
Any case, looks like there's a good chance that the release of the new album has been postponed if not completely cancelled due to Q's dissatisfaction with the whole thing.  It seems even more certain that he won't be appearing with the band at the Blue Moon this Saturday, which means I need to dust off my very dusty chops, which aren't very sharp to begin with.  Ah, well.
Been having a good time listening to The Crispin Glover tapes that recently arrived in the mail.  Wondering now if that'll be the last time we ever get to hear Quinn on record.  When he stormed out today, he made it pretty clear that he didn't expect to be back until they put a Libertarian in the white house or at least on primetime television.  Not holding my breath.
Tuesday, April 5, 2005
Very Little to say here, even in the wake of a two-week absence, except that vacation is a good thing and Quinn has a long way to go if he's going to conquer the continent down under.  Instead of rambling on about nothing, I'm going to reprint an email I received from our good friend the talented Eric Webb, founding member of Banned From the Mall and The Airresponsibles as well as a participant in the Wear White and Come When I Call Orchestra.  For some reason, he went to see Rod Stewart.  The following appears exactly as I (and several other lucky folks) recieved it.  Enjoy:
I ended up with a free ticket, so it was worth the cost of admission.  I happened to have my work bag with me so I took notes during the show... here they are:
3/24/05 - Rod Stewart - Key Arena
There were a lot of arses in seats.  To all of your credit, you correctly predicted my vision of optimistic perfection would result in disappointment.  I need to give credit to Ian, Steve and Mungro for at least considering the possibility.  They strengthened my resolve.
To say it was bad would be just wrong... it wasn't.   Can any show where a girl wearing Daisy Dukes plays sax really be all that bad?  What made the biggest impression, though, was the distance between what the show wanted to be and what the show was.
First, the show was boring, and not just to me.  The people that paid $100 per seat continued to sit in them for the majority of the night... which almost gives me hope.  That is, the Hot Legs fan base felt the same void that I felt as a fan of the truly great moments (and I as a bigger fan of the potential, but that's a different story). 
It seems like we both agreed that if Rod fell off the wagon, drank a bottle of Wild Turkey and stumbled into Ron Wood's basement, that we would all see a rebirth.  Thirty copies would be sold, but redemption would be had.
 (break)
The lyrics have always been there.  The talent is really undeniable.  As much as we... (pause).  I just saw a 45 year old man get thrown out for drinking vodka... a 50 year old woman narced him out.  Maybe that's a better metaphor for the evening than I could attempt.
I'm not going to go into great placement topic; the man appears in his songs.  Let's just say he was banned before, belittled after and way ahead of many people that we all can name.  I'm leaving tonight with the thought that it all could still happen... just not tonight. 
(intermission)
I gave it two songs and it now reminds me of karaoke videos at Ozzy's.  I mistakenly thought that the rock was second, but the schmaltz is last.  Oh, how I long for the giant TV showing great moments in Celtic United soccer history during "You're In My Heart".  The tux is too much.    
Thank you for your consideration.
Eric
Setlist:
(arrived late)
Downtown Train (Tom Waits)
Sweet Little Rock and Roller (Chuck Berry)
Hot Legs (Rod Stewart)
The Killing of Georgie parts I & II (Rod Stewart)
You're In My Heart (Rod Stewart)
(intermission)
Something crappy part I & II (American Standards)
(left early)
Friday, March 18, 2005
Hard to say how this happened, but Quinn decided to stay home and work on the album so I'm now holding a ticket for a flight to Sydney, on the sole condition that I show up at this wedding on April 1 and pay Q's respects to an old friend and his fiance. Score. I'm out of here tomorrow.
Things will be quiet on this page for a couple weeks, but in the meantime you can check out a bootleg of Quinn's December 2004 performance with the Wear White and Come When I Call Orchestra here:
http://www.archive.org/audio/etree-details-db.php?id=23407
Also, there's a new section for The Crispin Glover with a link on the homepage where you can check out a photo gallery. Audio coming soon.
Be good, everybody
Tuesday, March 15, 2005
Jim McCabe has finally finished his documentary about Fylo (the band)'s farewell tour in 2002. It's an amazingly well-wrought and pretty hilarious portrait of three jackasses crammed into a pickup truck playing janky sloprock throughout Washington and Montana whether people want them to or not. Quinn was a frequent Fylo collaborator and everyone at HGN was tickled to be invited to the premiere screening, which went over like gangbusters. If anyone wants to check this thing out, I urge you to get in touch with Jim McCabe by emailing him at jim@jmccabe.com. Copies are available and hopefully there will be more screenings soon. You can also have a look at his journal detailing the entire three-year ordeal of making the film and some clips here: http://tourmovie.blogspot.com
In other news, we're busy trying to add sections to the website for materal relating to The Crisping Glover and the Wear White and Come When I Call Orchestra. Should have some photographs and audio available soon.
Quinn recently returned from Maine and aside from a newfound fascination with toothpicks appears to be doing rather well. He's back at work on the new album and from what I've heard I don't know what to make of it. It's pretty weird, I suppose, and a little bit of a mess, but who knows what the finished product will sound like.
He's got a trip to Australia scheduled this month but off-handedly remarked the other day that he might give me his ticket so he can stay home and work on the recordings. Doubt that'll happen, but it's a nice thought.
Monday, March 14, 2005
It's been a while since the last update and there's actually quite a lot to report, but I'm going to hold off in order to make this clip (sent by Epstein) available to as many people with as little distraction as possible.  It's completely safe to watch.  It's the greatest thing I've ever seen and I sit in front of the internet all day so I've seen all of these things.  Enjoy: 
http://www.hugi.is/hahradi/bigboxes.php?box_id=51208&f_id=1269
Friday, March 4, 2005
Had a pretty intense moment with Interstellar Space the other day.  Never really put too much energy into late Coltraine before but it really grabbed me by the scruff of the neck for some reason.  I suppose this is "free jazz," which isn't for everyone, but it seems a lot more musical to me than other stuff with the same label.  Spun off on an all-day Coltraine bender and have yet to recover from it.  Not such a bad thing.
Stopped by Condor Electronics, where they're basically rebuilding an old 80-8 1/2" 8-track for HGN and was glad to see they're making progress and seem genuinely excited to be working on that old thing.  Can't wait to get it back.  Hopefully they'll be done with it by the time someone starts selling tape again.
What in God's name happened to allmusic.com?  This used to be my favorite website in the world and now it just seems determined to frustrate me.  Spent a good chunk of today learning about this guy named Jandek, who is my new hero even though I've yet to hear a note of his music.
Looking for a free Dylan ticket, if anyone's got one.
Tuesday, March 1, 2005
Not much to report.  The show last Saturday went really well - everybody was on fire and it was a privilege as always to share a stage with the Sleepy Workers.  No word from Quinn, but from the sound of his diary I suppose it's as likely that he's in Maine as anyplace else. 
Was kind of bummed that Marty lost again on Sunday, but I honestly think Clint just barely nosed him out.  Any other year would have been his.  Shit luck.  I can relate to that.
If anyone knows how to get ahold of any live video footage of The Band aside from the Last Waltz please let me know:  unpaidintern@quinnwshagbark.com
Tuesday, February 22, 2005
Went to pick Quinn up from the airport last night and surprise, surprise -- no Quinn to be found.  He was, however, nice enough to send along a desktop model of the Lincoln Memorial which an old woman with a walker passed off to me without so much as a glance as she hobbled off toward the baggage claim.  Not sure how she knew who I was, but there was a note scribbled on the back from the Q, something about going to Maine and finding a toothpick factory.  Looks like it's back to playing with the band for me, and I'm not even technically an employee here anymore.   
Thursday, February 17, 2005
Not much to report, really.  It's been quiet around here.  The General's been working on a recording project.  Haven't heard much from The Crispin Glover, so I guess they're doing fine.  Trying to get the band to come in and rehearse for the Quinn show at Patty Summers next weekend but nobody's into it. 
Oh, well, I guess. 
I don't even work here anymore, anyway. 
Friday, February 11, 2005
Man. Quinn kind of flipped out last night. I haven't seen him this torn-up and nervous about playing live in a long time, and honestly thought he was kind of past it. After "firing" me the other day, he "re-hired" me yesterday and sent me all over town collecting stuff that I'm assuming he owns from some pretty unsavory places. Most of the items on the list were followed by information about passwords, secret knocks, and hand signals that I would need to get this stuff back for him. Some cords, some strings, and some other small bits of machinery that I don't even recognize.
Anyway, after a pretty good rehearsal he calmed down and went off on an hour-long spiel about telephones and answering machines and the "human element" of music which I mostly tuned out for. I was just glad he was in a better mood.
Those two guys hit the road tonight, and I wish them the best. They set up a direct line into HGN headquarters and bought a red telephone in a glass case with "The General" stenciled across it. I guess they figure they'll need some roadside assistance from John Cocci somewhere along the line. (for more info about The General, do a CTRL-F on these updates)
Now it's back to my real job, where the crap has been piling up like cordwood.
http://www.hugi.is/hahradi/bigboxes.php?box_id=51208&f_id=1269
Tuesday, February 8, 2005
Wow. Another fantastic night at the Beacon.
Quinn and Epstein debuted their Crispin Glover set, and aside from a few problems with the sound it seems like they just might be able pull this off. The two of them play every instrument and use loops to make themselves sound like a full band. If they can avoid strangling each other out on tour they should be playing some pretty good music for the folks.
Then we all learned that Awnings for Eyelids' bassist Shawn Oram's wife had gone into labor, meaning he obviously wouldn't be on hand. Jon Simmons from Fighting Shy and Supergroup subbed beautifully on bass for a good long set and then even they shoved me out there for a little while. Adversity was beaten to a pulp and Awnings' new lineup sounded fantastic, especially with Simmons.
Then things gradually morphed into a supergroup set with AFE drummer John Arvizu sitting in both on drums and guitar. Quinn was in a pretty good mood and stuck around to play, which was great to hear but also meant I didn't get to sit in, which was a drag. But no complaints. It was a great set to be in the audience for. Hands-down the most interwoven, psychedelic, loving, and conversational set I've ever seen Supergroup play.
And to put a beautiful capper on the evening, it turns out that baby Andy Oram was born at 1:56 in the morning, just as Supergroup was finishing off their best and last show before Epstein's departure with a beautiful version of that favorite spiritual, "I'm a Soldier (in the Army of the Lord)."  It makes my hair stand on end just to think about it.
Welcome to the world, little soldier.
Friday, February 4, 2005
Not much to report really.  Things have been quiet around HGN since the big falling out between Quinn and the band, and the Q has kept himself busy with rehearsals for the upcoming The Crispin Glover Tour. 
Tomorrow night is Jonathan Epstein's going away party at the Beacon Pub, which should be fun.  Seattle traded him to Washington D.C. for some cigarettes and draft pick to be named later.  There will be a debut set by The Crispin Glover, followed by swansong sets by Awnings for Eyelids and Supergroup.  I have a feeling Quinn will bail and leave me to sit in with Supergroup but that's fine -- I like playing with those guys. 
In other news, Quinn booked a show in February at Patty Summers in Seattle, for which I have no idea what his plans are.  Hopefully he can talk the band back into playing with him but things have been looking grim.
In other news, the sun was out for a good 6 minutes in Seattle today, which was enough to make me think summer might be here.  Silly rabbit.
Monday, January 30, 2005
I don't want to talk about what happened in Olympia. Quinn's lucky he didn't get deported. In addition to pissing off everyone who's ever owned a bicycle, several Longshoreman, and a pair of warring third-world nations, he fired me from the upcoming Crispin Glover tour, which means it'll be just him and Epstein. I pity both of those guys.
To make it even worse, I watched almost all of Jerry McGuire last night and found myself actually enjoying it. I don't know what's going on around here.
Wednesday, January 26, 2005
Busy week here, with lots of interesting developments, not the least of which is Quinn really pissing off the other guys in the band, but I'm taking a beating at work lately and am super-tired from that as well as slightly freaked out having just finished "Resuscitation of a Hanged Man" so this will be a quick and paranoid entry.
First off, I need to apologize to Leonard DiCaprio for the 14 languages I've used to pray for his violent and painful death.  "The Aviator" is the best Scorcese movie in quite some time, which means it's absolutley amazing.  On paper, it was a recipe for catastrophe, but I was blown away.
Next, the show at the Rendezvous was a rousing success, and the Sleepy Workers were inspirational as usual.  Quinn actually played this one so I got to hang out and watch, which was nice.  First time he's been onstage in a while, and you could tell he was kind of rusty.  Sometimes I think I know his songs better than he does.  Anyway, thanks so much to everyone who came out - it was a great evening.
And finally, for tonight anyway, Quinn really pissed the band off this week and now they're threatening to boycott the Olympia show.  I'm not really sure what he did, but I was upstairs in the offices while they were downstairs rehearsing and next thing I knew all the guys were all storming out with red faces.  Cullen had both his sleeves ripped off and Ian had a bruise on his forehead in the shape of an X-Box controller.  Haven't heard from them since and Quinn won't tell me what happened - says "screw it - I'll go down there and play all the instruments by myself."  I said, "How are you going to do that?" and he said.  "Don't worry about."
I am, however, quite worried.
Monday, January 17, 2005
Need to go see what happens to Bauer on "24" in about 10 minutes here, so this'll be quick.  Couple new developments that need to be recorded.
For one, Quinn is in the process of putting together a project called The Crispin Glover with Jonathan Epstein of Awnings for Eyelids.  They're going on the road in mid-February as two-man act using a series of long-format looping devices to create the illusion of a 4- or 5-piece rock band without using any prerecorded music.  They'll be switching on and off between drums, bass, keys, guitars, and just about anything they can stick a microphone in front of.  They're playing a show in Seattle on February 5 and then heading out cross-country.  Check on the shows page for details. 
Also, Quinn's been recording.  It's hard to tell exactly what that means, because he never lets anyone hang around while he's working, but it looks like chances are good there will be a new album out sometime this year.  The working title, so far, is "I'll Shoot You Ace, I Swear to God." 
The long-delayed third Swank album has also been receiving some attention around the HGN offices, and after a few more rounds of swapping tapes in the mail with Frank Swank down in Arizona, it's likely that the third Swank album will see a 2005 release date. 
Add to that the two Shagbark shows coming up, and things have been kind of wild around the office, which means I've been missing a bunch of shows I really wanted to see.  Did catch Fighting Shy with Adrian and the Sickness down in Tacoma, though, and it was...well...sick.
Wednesday, January 12, 2005
Didn't make any lists this year but was just looking around my desk and thinking back on 2004. Here's a random list of the stuff that got the Unpaid Intern through a pretty rough-and-tumble year. There was a lot of good music, but here's the stuff that was like medicine. Not necessarily released in '04, just listened to. Incessantly.
rilo kiley - more adventurous
steve forbert - just like there's nothing to it
dan reeder - dan reeder
jon brion - i heart huckabees
daniel johnston - Fun/1990
evan dando - baby i'm bored
loudon wainwright III - a live one, therapy, so damn happy, so much more...
johnny thunders - live set @ end of can't put your arms around a memory box set
mike watt - online tour diaries
paul westerberg - folker
modest mouse - good gnus for people who love bad gnus.
broken social scene - you forgot it in people
drive-by truckers - dirty south
warren zevon - the wind
supergroup - man vs. decency
magnetic fields - 69 love songs
george harrison - all things must pass
Will be interested to see how '05 turns out. So far, it's been a veritable Zappa Orgie.
Sleepy Workers and Dark Sergeant tore up Chop Suey last night and I felt privileged to be in the audience. Can't imagine either of those bands will be playing Tuesday nights for very much longer.
Wednesday, January 5, 2005
Happy New Year everybody. Maybe not so many people will die this time around. Last year was kind of a rough one.
If you find yourself bored and looking for something to watch on television and the TV Guide Channel happens to be playing a special about an American Idol girl named Kimberly Caldwell above those scrolling listings that never seem to be within 600 channels of what you're looking for, keep an ear out. Just after the part of the show where she tries to convince her grandmother to get a tattoo on her boob there's about a 30-second snippet of Quinn's song "Forgot the Milk," which was whored out to that network. Everyone at HGN had a pretty good laugh about that, and even though the show was a little painful to watch I think everyone found themselves crushing a little on young Kimberly by the end of it.
In sadder news, I heard on the radio this morning that Quantegy went out of business last Friday. For those of you technophiles who are left unstunned by this news, you should know that Quantegy was the last company making audiotape in this country. Audiotape is the stuff that used to unravel in your car stereo back in the days before walkie-talkies, microwaves, and iPods. Not sure what this will mean in the long run, but I'm tempted to go stock up. We've got 1/4" and 1/2" machines at HGN and I'm scared these things will be rendered useless in the future. Should probably write to Larry Crane at Tape-Op, double my subscription, and beg him for some good news. Mixerman is rolling in his control room. The kids at ProTools are probably popping champagne. Might be time to talk Quinn into making that stripped-down retro 4-track album he's always talked about.
-The Unpaid Intern
(click here to read 2004 updates)