---
Listen to Played Your Rhythm for Free!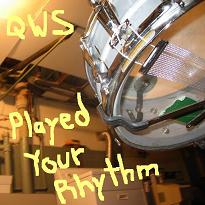 Click here to stream          Click for more download options
Played Your Rhythm is a collection of cover songs recorded by Quinn W. Shagbark.  HGN has collected them here for your listening pleasure Please write us if you have any difficulties with the files.  Enjoy.
(click on a song to listen or right-click to download it)
               1.  Souvenirs (John Prine)
               2.  Emotionally Yours (Bob Dylan)
               3.  Mind Contorted (Daniel Johnston)
               4.  John Wesley Harding (Bob Dylan)
               5.  Sad Vacation (Johnny Thunders)
               6.  Tomorrow is a Long Time (Bob Dylan)
               7.  Sitting on the Dock of the Bay (Otis Redding)
               8.  Rain (Lennon/McCartney)
               9.  Don't Let Us Get Sick (Warren Zevon)
              10. Tickets to Wilco (Rebekah Florence)
              11.  Baby Mellow My Mind (Neil Young)
             
None of these songs were written by qws.
All of these songs were performed and recorded by qws.