---
Quinn W. Shagbark's "The Crispin Glover" Tour Diary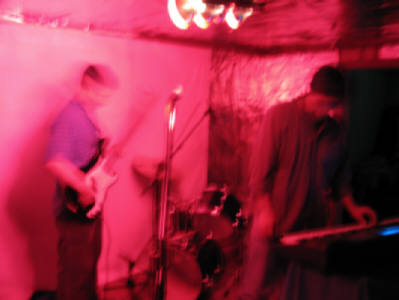 Wednesday, February 9, 2005  -- Seattle, WA 
Had to fire the kid.  He does a great job around HGN headquarters and you'd be hard-pressed to find an intern who does more for less, but this trip is no place for a delicate youngster like him.  Also, Epstein's sled is pretty tiny and there won't be any room for him.  Any case, it's just me and Jonny Action.  We shove off Friday but preparations are in full swing.
Saw Bill Frisell at the Tractor tonight.  He may be one of the most beautiful human beings on the face of the earth.  Sometimes he looks like Bugs Bunny but there is absolutely no one who plays as deeply and soulfully as he does.  His quartet made me want to try to write music for quartets.  All in all a great night except for the olfactory hallucinations that I continue to suffer from.  Ever since I was a kid I always imagine that I smell dogshit.  Everywhere I go.  It's paralyzing.  I know they're hallucinations because there's no way so many places could smell like dogshit so often.  So I just gritted my teeth and dealt with it.
Received a copy of Levon Helm's autobiography in the mail today.  Got it for like four bucks at Amazon.  Ridiculous.  Can't wait to tear into that thing.  I opened it at random and the first line I read was something like, "...it was the first of many acrimonious meetings between me and Robby..."
Epsten got the drumkit for the tour and it's really small.  Like a plaything.  I told him we should give the kit to Oram's new kid and get ourselves a real live grownup kit but he's not having it.  In the end, he's the tourboss and I'm just a sidemouse, which is insanely frustrating.  I wish we could get a real drumset.
Tomorrow, need to remember to re-hire the kid for long enough to send him out to buy a bunch of crap. 
Off now to watch a special about Napolean on the History Channel.
Not sure how good this tour diary thing is going to work out.
More gnus as it comes.
Thursday, February 10, 2005  --  Seattle, WA
Jesus. 24 hours until shove-off time and I'm having a complete panic attack. Had to re-hire the kid ("The Unpaid Intern" to those of you who've grown fond of his ridiculous online journal) for longer than I wanted to and sent him off to Guitar Sinner for an AC adapter as well as to collect some things I have strewn around town. Ordinarily, I would be as comfortable as a teddy bear in a sorority house heading out to play music under any circumstances, in any lineup, in any format that included Jonathan "jonnyaction" "Action" Epstein, but we've really stacked the deck against ourselves with this fiasco.
Basically, we're playing all of the instruments ourselves. No problem. We can do that. However, it involves using some technology that's not quite perfected which could cause some problems. We're running everything through a looping device which will allow the drums to keep playing long after one of us has finished laying down a part and leapt up to grab his guitar. However, this means we have to play everything at the exact perfect volume, which will be a nightmare considering we're playing in all different kinds of places with all different kinds of sound systems and sound people.
Imagine there are ten of you in a house with ten telephones in ten different rooms, and you want to call your pal in Topeka, KS, to sing Happy Birthday to her, but she's not home so you're going to sing to her answering machine. Even though you have ten different people singing on ten different phones, there's only one message getting left on one machine, which will be a combination of ten voices. If someone is too loud, they'll stick out and drown everyone else out. If someone is too quiet, they won't be heard. This, essentially, is the problem we'll have -- since all our sound is going through a single piece of looping equipment, we don't have the luxury of adjusting levels. So if the drums are too loud at the beginning, they'll be too loud for the whole song.
Boring, I know, but it's stressing me out.
Add to that the fact that we'll be sallying forth with a miniature brand new drum set with the bass heads attached to the wrong ends and rack toms that sound like they've been sucking on a helium balloon, a Radio Shack keyboard that I bought in the year 2000 to make percussion sounds for an album called Life in a Bucket, an array of Action's distortion pedals with names that sound like a list of brutal offenses from Charlie Manson's rap sheet, and you can approximate the feeling in the pit of my stomach right now.
I'm guess we'll be fine, though.
Friday, February 11, 2005 (early morning)  --  Seattle, WA
It occurred to me last night, during rehearsal, that The Crispin Glover is the greatest band in the history of the world. Epstein is an avant-garde gadgetry wizard and I work with confusion like a sculptor. All this paranoid anxiety is the result of too many Twin Peaks and X-Files episodes, and the goal henceforth will be to keep those things separate from the music.
We re-attached the bass heads, tuned the toms down a little, gathered together some much-needed supplies, and everything is a go. We head out today and I'm feeling good again. Sure do wish we could bring The General with us, but you can't always have it all.
Friday, February 11, 2005 (late night)  --  Yakima, WA
Finally made it out of town today.  Big relief.  Without going into too much detail, it's been a long stressful week of negotiations with the HGN guys.  I kind of freaked out a few years ago when some people were kind of after me and to avoid being tracked down I demanded that my name be removed from all HGN business dealings, including the sales of my albums.  Now that all that is over, I'm trying to weasel my way back into getting paid.  These folks have been unnecessarily accomodating in the past, but now they're really putting the screws to me.  Taking a "more active role" in the "promotional aspect" of things (read "helping HGN sell stuff") has been a big point.  Hence the writing of this diary, along with some other unmentionable tasks that I won't mention.
Anyway, all those unpleasantries have passed and we made the trip over Snoqualmie Pass and hit Yakima well before midnight.  Holed up at a Quality Inn, unloaded the nice stuff from the car (Epstein's got some great vintage amps and guitars which nicely offset the uber-econo nature of my bass and keys) and sashayed back into town to lose money at the Casino.  Did a great job losing cash tonight, maybe the best I've ever done.  I've really streamlined my system and was able to get out of there having blown all my dough in about half the time it usually takes.  Limped back to the ho listening to the first of four absolutely priceless CDs of John Lennon interviews that Epstein brought along for the trip and then into the room to chimp diary and check out a Cheers re-run.  Sammy's trying to date a mom/daughter team right now but I have a feeling things aren't going to work very well out for the coiffed one.
Short day today.  Not much ground covered, but leaving behind the stress and agony of preparations makes it seem like we put a thousand miles behind us.  Beautiful and peaceful drive through the mountains and down into the Yakima Valley.  Clear as Kate Moss' complexion up in the sky and Orion stood tall keeping guard for us out the starboard window.  We threw in a copy of the "Wear White and Come When I Call Orchestra" show from the Beacon Pub last December which featured Action Epstein tearing away on a raunchy banjitar the way only he can and it dawned on me for the first time that he's not coming back from this trip.  Ten days from now I'll be sweating it out on a flight back home from Baltimore and Epstein will be staking out territory for a new journey in the nation's capitol.  Seattle loses one of it's finest but I suppose DC could probably use someone like him at a time like this.  All the more reason to give it furious hell for The Crispin Glover this week and make sure that every show we play snags a thread off the cosmic sweater and makes a mad dash for the cellar door with it.
Wow.  Back-to-back Cheers episodes.  There's a big Bloody Mary contest in this one, and Sammy really doesn't want to lose to Gary's Old Towne Tavern.  Doesn't somebody dress up like a judge in this one?
Tomorrow, Boise.  Now, Sueno. 
Saturday, February 12  --  Boise, ID
Popped a little after 8 this morning and hosed off.  Not as early as I thought we'd get going, but I didn't sleep that well so I'm glad Epstein wasn't up at his normal hour.  Ate some powdery eggs and an English muffin with some apple juice and coffee at the hotel's free spread.  Not the best but it got me going and in retrospect there were no major side-effects that rolling the window down in the sled couldn't take care of.  A nice relaxing drive through Washington, Oregon, and Idaho today.  Epstein's car has some funky stuff going on with the steering so I don't really like to drive it that much.  I offered this afternoon, but he insisted on doing the whole jaunt himself.  Fine by me.  We rolled through some remote mountain lands to the tune of Wilco (with Nels), The Band, Dylan, Built to Spill, Tim Young, and Elliot Smith.  Everything sounded so good I wished we could play a six-hour set of all our favorite tunes come showtime.  Sunny all day long and everyone else on the road seemed to be having fun driving.
Called up a good old friend Jen when we arrived in Boise and received the bad news that no one at The Bomb Shelter seemed to be aware of our show.  Bummer.  Stayed positive, though, and rolled up to the patio of a Starbucks downtown where we mooched a wi-fi connection from a nearby technology company.  Got in touch with Trevor the show boss who was super-friendly and pegged the couple blocks from his apartment to meet us and explain that the show had been moved to a "better venue" called the Riot Factory.  Radical.  Riot factory.  Sounded pretty kickass.
Turns out the Riot Factory was actually the tinfoil-lined basement of a house out on Broadway -- the latest in a series of underground music venues Boise has seen come and go over the past fifteen years, and which all seem to get bulldozed after their times have passed.  Even better than radical.  Trevor asked us to show up around 8:00 which gave us a few hours to find a hotel, grab some Thai food with Jen and her friend Jen (who would prove themselves to be truly angelic figures of hospitality and friendliness over the course of the evening), and even have a quick beer at a bar down the block from the venue.
The night got off to an appropriately wacko start with a local artist named Elijah performing to some recorded tracks and manipulating the cobbled-together lighting system like a natural.  The basement was wall-to-wall packed with kids from Boise but it never got too hot or loud.  Elijah writhed around and sang his ass off and leapt out into the crowd and just generally played a kick-ass set.  I'm not normally a fan of bands using pre-recorded music, but this guy somehow transcended all that and put on a really cool show.  Swapped CDs with him and can't wait to listen
Next up was the first of three gloriously outrageous groups from Chicago called Flight, which consisted of a woman dressed up in a chicken costume carrying a desk lamp who performed a slow, orchestrated death to some tripped-out Cage-style music.  Very weird and you could see peoples' faces start to blank out and soon I couldn't control my laughter.  Thank you, Flight.
Second up to bat from the Chicago contingent was Marriage.  I'm not sure I can do Marriage the justice they deserve in this limited amount of space.  In a nutshell, it involved an androgynous couple decked out in white fencing uniforms performing to a sync-ed up series of video clips projected directly onto them (a la Supergroup circa May, 2004).  I can honestly say that, until I saw Marriage, I'd never had the opportunity to witness a sliced lemon being juiced on a ribbed codpiece.  These two kids sang their hearts out and delivered a performance that was equal parts zany and brainy, and at one point there was a live rabbit involved which ended up triggering a violent allergic reaction in Trevor's eyeballs which left him staggering around for the remainder of the evening with some kind of science class safety washer attached to his face.
Rounding out the Chi-town trio was Princess, who I'd heard describing their sound earlier in the evening as, "New-school rhythms, with old-school rhymes, but then at the same time…we're gay!"  I won't try to improve on that, but I will say that they had a rack of guitars longer than the arm of the law and made good use of them, ripping off some pretty killer harmonized solos in between dance-party beats and super-fast rhymes.  All in all it was a performance too professional for a basement but somehow perfectly-suited for the task at hand.  Action and I were both moved by how supportive and enthusiastic the local crowd was toward such a wide array of challenging acts from so far away who they'd never even heard of.
Finally, it was time for The Crispin Glover.  It was a privilege to take the stage on such a rare and wild evening (which we eventually learned was the maiden voyage for The Riot Factory.) and we wanted desperately to maintain the energy and add something new and unique to the evening.
Opened the set with an instrumental Action and I cooked up called Jerry (a song about nothing) during which Action whipped out his cellphone so we could call our friend Julia back in Seattle and have the whole room sing Happy Birthday to her.  All the kids responded beautifully and I hope we were able to make up for our absence from her party by sending along some genuine Boise love.  Followed that up with Across the Great Divide and Piss-Bottle Man, two covers which we picked to help pay tribute to some of the bands we've been swooning over a little harder than usual recently, The Band and Mike Watt.  Then one of Epstein's Awnings For Eyelids songs, "Yours," which went well except for the fact that we realized a little too late that the bass guitar had been knocked out of tune.  Closed out the set with a pretty amped-up version of Alligator Hearts (from "More Shit from the Bogus Captain") and in the end we were pretty satisfied.  A couple minor adjustments and we'll have this whole thing down. 
It would be fair to say that the odds were not in our favor today, from troubles with the venue to the possibility of being paired up with some very different-sounding groups, to our own equipment and performance issues.  In the end, though, we made some great new friends and gained intense admiration for some complete strangers and gave everything we had to be the best The Crispin Glover we could be.  Not a bad run. 
The Chicago crew was on their way to Missoula, and I told them about all the great folks I know up there and assured them they were headed for another magical evening.  We swapped CDs, shook hands, exchanged good lucks, and parted ways.
Afterward, over beers at the bar down the block from the venue, we thanked Jen and Jen many times over for being such supportive and kind friends to a couple of sketchy bearded dudes they had no responsibility toward whatsoever.  On the ride back to the hotel to crash, I got a little overwhelmed by the realization that in the midst of all the jackassery that descends on us on a daily basis there are still so many people out there willing to bend over backwards to take care of each other.  I'm truly lucky to know so many amazing people in so many amazing places, and it's heartbreaking that I don't get to visit them all more often. 
Day two now in the books.  Chimped a little diary in bed at the ho and then time for sueno.  Tomorrow, it's down through Utah and a couple days off before the Tuesday show in Denver.  Thank you, Boise.
Sunday, February 13, 2005  --  Rock Springs, WY
Popped a little late today after a bizarre episode which saw the alarm clock firing away at about four in the morning, just seconds before succumbing to a beating at the hands of both Action and myself.  Not sure what happened, but next thing I knew Action was swearing up and down because the clock said 12:45 and we were still konked.  Turns out I must have set the thing four hours fast while taking jabs at it in the dark and we were hosed off and eating breakfast by 9:30. 
Threw in a Drive-By Truckers bootleg when we left Boise and I'm not exaggerating when I say we were damn near Ogden before the boys got done with that show.  Must have been three hours plus.  If there's a better hard-rocking band in business these days I'd like to hear them.  Recently saw there's a 5-day gap in the DBT's upcoming tour of the West and I'll be a mean grumpy bastard if they don't book something in Seattle.  Today, especially, I got really amped up to see those guys (and girl) again. 
Stopped off for lunch in Ogden but apparently that place is a ghost town on Sundays.  Everything was closed.  Had to grab a chicken sandwich and a salad at Wendy's, which wasn't too bad, but not exactly my idea of sampling the local cuisine.  Did get to sample some local mountains, though, which were strange to behold with their stacked-up desert red-rock look dusted by clean white snow.
Pulled off around 5:00 in Rock Springs, WY (Richard Ford wrote a great book of stories called Rock Springs, so I was excited about this) and immediately saw a sign for a Comfort Inn boasting wi-fi in every room and a free (yes, free!) complimentary cocktail hour.  Done deal.
The woman who checked us in was cheerful and friendly and demanded that we sit down for a drink before pulling the car around to our room.  Come to find out the free cocktail hour was actually *two* hours and had already been invaded by a busload of adorable senior citizens from Wisconson who were on a three-week tour of the country with Las Vegas being their only real discernable destination.  No worries, though, because according to a couple I chatted with in line at the bar they pretty much hook up with these free cocktail hours every night.  I asked what their bus looked like so we could follow along behind.  Then we talked about the weather, which is what people from the Midwest do.
The sitting area was packed to the gills so Action and I took our drinks (shot out of a gun with buttons for six different kinds of liquor) out to the deck where we saw an intense looking man firing off some pretty heated rhetoric about Bush's handling of the Iraq situation and a tiny old woman who appeared more than a tad overwhelmed.  She finished her cigarette in record time and then hauled ass back indoors, leaving us to chat up our new pal Charlie, who schooled us on a variety of topics including pop star marriages, his 21 years in the military, the effects of drugs and alcohol on famous artists (with a sidebar discussing the genetics of addiction), his job flying back and forth from Texas to Wyoming in the oil industry, and most interesting of all a complete, detailed rebuttal of all rumors suggesting that women from Utah are uptight and sexually unadventurous.  Won't go into all the details here, but it'll suffice to say that the volume and content of this conversation would have made me quite uncomfortable if not for the spoils of a free cocktail hour balanced on top of an empty stomach.  As it stood, I pretty much laughed my ass off, and Action got so overwhelmed that he actually had to leave for a while.
All the best to you, Charlie, and thanks so much for turning a pretty average evening into one that we'll be talking about for quite some time.  Once again, throwing ourselves into the unplanned unkown yielded surprising and gratifying results, and in addition to enjoying your company I now have a whole new way of looking at my next trip to Utah. 
Post-cocktail hour, we headed across the street to soak up the juice with some chow, yammered a little about last night's gig and our meeting with Charlie, then headed back to the ho to chimp diary and knock back some decaf tea out of the coffee pot, which apparently has become standard issue with all hotel rooms these days. 
The laptop I borrowed from the General is starting to flash a low power message so it's high time both me and the machine get the batteries recharging.  Konktime approaches.  It smells like dogshit in here.
Monday, February 14, 2005  --  Fort Collins, CO
Popped around eight and knocked back another free breakfast at the ho.  This kind of economy always gets me off, no matter how bad the food is, but the fact that Action is the boss of this tour and in charge of the budget as well as the funds mean that all the excitement of saving a few bucks here and there has pretty much been drained.  Not that I'm complaining, but I really have to struggle to repress my instincts to suffer through anything short of a disembowelment to save money.  These hard-boiled eggs, oatmeal, juice, and coffee are completely free, though, and I close my eyes to savor that while I can.
Made a couple frustrating attempts to update the website today but to no avail.  Found out that our friends Jim and Lance from Estocar were able to locate some of their gear but no real word about whether they've gotten the thief.  Right on to that.
The jaunt from Rock Springs was pretty nice.  Had a little bit of snow early but by the time we were within spitting distance of Cheyenne it was absolutely gorgeous – sunny and ragingly warm.  Headed south for Fort Collins to grab some lunch and ended up chatting with the bartender at The Starlight Theater and basically booked ourselves a show on the spot.  Not exactly ideal – 11:00 on a Monday which also happens to be Valentine's Day, but what else are a couple guys from The Crispin Glover gonna do? 
The Starlight Theater is a great room, with a sign boasting that "Ween played here" hanging over the entrance to the band area, and Action and I were really excited to play it.
Spent the afternoon pegging aimlessly around town while Action chimped diary for a gig he lined up at Slate.com where his entries will be published every day this week.  Pretty exciting for him, but I'm actually kind of glad that only a handful of people will be reading this drivel that I'm cranking out.  Not even sure how I manage to keep doing this, but if it'll get the folks at HomeGrownNoodles (my record label, for those of you just joining us) back on my side then I'm willing to put in the work.  I just hope Action doesn't make me out to be too much of a grumpy bastard.  Probably shouldn't worry, though, because he's a great friend and a good tour boss and knowing him he'll probably paint me in a more sympathetic light than I deserve. 
Headed out to find a ho and checked into a pimped-out Holiday Inn that's going through all kinds of renovations.  Did a little chimping, watched The Weather Channel, and then cranked out some fliers for the show on the back of a map of the convention center.  Pretty beat down today, and tried to grab a nap but no afternoon sueno today.  Bummer.
Made copies of the fliers and then back into downtown Fort Collins for a slice of pizza at a great little bar across the street from the venue.  Eventually made our way over to the Starlight Theater where Nate the soundguy/bartender welcomed us and laid out the plans for the evening.  Fortunately, everyone in the bar was way into 24 and we got to see the whole episode right there at the bar.  Huge.  We were really worried this unplanned gig was going to cause us to miss Bauer, but in the end it worked out perfectly, though we nearly forgot that the show airs at 8:00 rather than 9:00 in the Mountain Time Zone.
Pretty small crowd at the venue but what they lacked in number they made up for in humor.  Super-funny bunch of cats and we had a great time hanging out with them listening to Weezer and the Rolling Stones until we finally got up to play around 11:30. 
With the whole night to ourselves, Action and I really stretched out our set, adding a few new improvised instrumental sections and even playing some brand new unpracticed songs like "Carry the Zero" and "What's the Matter, Agnes?"  For the first time since we started rehearsing, I felt like we were really firing on all cylinders and exploring some new territory and even though the place was mostly empty we both agreed that this was the way we'd always wanted The Crispin Glover to sound.  Later in the night, we even had a cute older couple slow dancing and some kind, friendly women on their way home from a dance party chatting with us and earnestly paying attention. 
Before we knew it, the show was over and we packed up quick, having our system down pat by now.  Nate was super nice and complimentary and wrote off our bar tab for the entire night.  Thanks, Nate, and thanks to everyone else from the Starlight for making me laugh so hard on a Valentine's Day where nobody had anything else to do.  Passed out some CDs to the folks who seemed interested and hopefully they'll be able to get some shred of enjoyment out of them.
Beat to a pulp back at the ho, we watched a little tube and then konked pretty hard.  Short drive to Denver tomorrow and a small chance that my brother and best pal Floydd H. Shagbark and his lovely wife Amy will be meeting up with us.  Can't wait.  Neither can the sueno.  Here it comes.
Tuesday, February 15, 2005  --  Denver, CO
Popped around 8:00 this morning to a virtual whiteout.  Shit.  Unbelievable.   Yesterday it was upwards of sixty and we ate lunch outdoors with no coats and this morning there were three inches of snow on the ground.  Luckily it wasn't cold enough to stick to the roads and even though we took it slow and careful on the drive to Denver the conditions were a lot less bad than we'd feared.
Got into town and hooked up with Epstein's old friends Doug and Carrie and their beautiful baby daughter Lila.  They have a great pad right downtown, no more than a mile away from the venue, and I was excited to finally be sacking out on a couch and having an econo overnight stay.  Always a little nervous about imposing on people I don't know, but Doug and Carrie were amazingly gracious hosts and made me feel right at home.  Not sure how stoked they were about having me within smelling distance of their child, but they were much nicer to me than I'm used to being treated and I thank them for their charity more than can be expressed here.
After unloading some stuff we got caught with not much to do and a whole afternoon to kill.  Grabbed some gumbo and a sandwich at a chow pad downtown and then wandered aimlessly through the cold and snow.  Was amazed to find that the 16th Street area of Denver is actually an expanse of slick, glitzy, yupped-out Hard Rock Café-type establishments.  Always thought about this place as full of trainyards and dive bars.  Came to find out the venue was certainly one of the latter, slightly off the beaten path, and that was a relief. 
Killed some time at a soulless Barnes & Noble megatronistore flipping through magazines and then bought a book of stories by Andres Dubus, who I was happy to finally separate from his son, Andre Dubus III.  Have been confused for some time about these guys based on an interview I read with Raymond Carver touting Dubus' short stories and the fact that the movies "House of Sand and Fog," "In the Bedroom," and "We Don't Live Here Anymore" were all written by guys named Dubus who may or may not have been the same guy.  Everything's straightened out now (the kid only wrote House of Sand and Fog) and I'm excited to dig into those stories.
Epstein brought up the idea of opening a nap store, since that's basically what we were looking for – a place to crash and relax for a couple hours.  Couldn't find one, so instead we went and sat in comfortable chairs through a pretty crappy movie.  Can't recommend "Boogeyman" to anybody because it's not even bad enough to be funny.  Just bad enough to be bad, and even though it was a "horror" movie nobody's clothes flew off.  What a ripoff.
Having beaten down the afternoon, we headed back to Doug and Carrie and Lila's where we were treated like kings to a meal of artichoke-stuffed chicken breasts, rice pilaf, and broccoli.  Hung around visiting for a while and then started getting ready for the show.  I called up my brother and best pal Floydd, who was in Winter Park with his lovely wife Amy and begged him not to make the drive over the pass into town because we'd seen the weather report on tv and things looked nasty.  True to form, he'd already hauled ass through ridiculous amounts of snow and fog and was in Denver by the time I got a hold of him.  They were off to have dinner with his uncle and then planned to meet us at the 15th Street Tavern.  I was slightly put-off (scared to death for their safety) but also jittery with excitement.  Don't get to see Floydd and Amy very often, so it's always a joyous occasion. 
Had a pretty good laugh when we realized that the 15th Street had about 3 times more people in it when we poked our heads in at noon than it did when we arrived to load in around nine.  Got everything set up with some welcome help from super-host Doug just in time to welcome Floydd and Amy into the bar.  Hugs and smiles all around and even though it was another mellow crowd I was absolutely beaming with excitement at the fact that Floydd was going to get to see this latest bizarre incarnation of a musical trip that we began together some fifteen years ago.  Matter of fact, I'm pretty sure this was the first time he'd seen me onstage since our last appearance together, which was at a party in Ohio where everyone was swallowing goldfish about ten years ago.  As always, the years go fast and the days go so slow.
If Fort Collins was our experimental and stretched-out show, then tonight was our polished one.  Everything clicked perfectly and we banged out a solid hour with hardly a minute wasted.  Got a little trippy at times but I don't think we overdid it and the folks who braved the ugly snowiness of a Tuesday Denver night were all very kind and complimentary.  Todd, one of the bartenders, was actually really interested in the idea of looping all our instruments and we chatted for a while about equipment and bands and music in general, which was some of the most enjoyable spielage I've had all tour. 
The show finished early so I also got to have some good spiel time with Floydd and Amy.  Did some storytelling, made plans to meet up  in the Northwest this summer, and watched some video clips of their kickass dog Porter (he's a golden-doodle – part retriever and part poodle) on Floydd's digicam.  I'd had big plans to get Floydd up on stage for our second set, but early Tuesday curfew meant that The Crispin Glover were relegated to a single one-hour stint tonight.  Bummer, but no big deal.  Just having them around was a treat in itself.
The folks at the 15th Street gave us a wonderful sendoff, even dipping into the till to set us up with gas money, and I was touched and moved.  So good to find people working around booze and music who aren't flakes with chips on their shoulders and I scribbled a note to myself to send these kids a postcard after the tour's done to say thanks.  Hope to get back there sometime soon.  Thanks so much, 15th Street Tavern.
Loaded up the sled with more help from Doug the Super-Host and ambled back to his pad to quietly (baby's sleeping!) chimp diary and eventually succumb to the sueno.  Very strange to be around the young'un, and it kept me on my best behavior.  Now getting ready for what will surely be my best night of sleep all tour -- curled up on the couch fully-clothed and completely exhausted.  Tomorrow, we begin the hellride to Chintzinatti, where I hope to meet up with some old Ohio folks as well as a fellow named Mike Detmer from The Spectacular Fantastic who makes incredible music and has started a recording collective down there, which I'm sure will be yielding some really good stuff in the near future.
Wednesday, February 16, 2005  --  near St. Louis, MO
Nothing happened today.
Drove some eight or nine hundred miles, which is a long way inside a car.  Almost too far.  Almost stayed at a ho with a built-in pub but there was no internet access and (more importantly) a group of six cops hanging out in the parking lot just waiting for the opportunity to bust a couple bearded sketchballs.  Could have done with out the internet access but those cops made me nervous.  Would have been nice to visit that built-in bar, though.  As it stands, I had to hoof it over to a gas station to grab a can of beer to sip on before bed.  Starting to get tired of being taken for a streetperson and considering shaving off the whiskers.
Sitting at the ho right now with not much to say about today.  Listened to a bunch of stuff on the deck in the sled – Zappa interviews, more Lennon interviews, Revolver outtakes, some live Pavement, and a whole bunch of extras from the Rock of Ages shows.  Sometimes I pretended like I was having a seizure and started twitching around like a marionette. 
Will spend a few minutes trying to think of stuff I forgot:
Yesterday, while hitting the ATM, Epstein found a cassette tape labeled THE REALITY OF HELL.  We don't have a tape player with us, so haven't listened to it yet, but I've been carrying it around along with all the other gear stuffed in my pockets that makes me feel like a Navy SEAL.  Here's the rundown:  Inside coat pockets – Shagbark CDS, matches, packet of jasmine blossom green tea, "Drag the River" CD (local band from Ft. Collins).  Upper coat pocket – Headlamp, Blue Moon pin.  Left front pants pocket – digicam.  Right front pants pocket – keys, picks, small change, one Sharpie, two ballpoint pens, crumpled one-dollar bills, ballmarker, bottlecap.  Back right pants pocket – pieces of paper with important stuff written on them, pieces of paper with meaningless stuff written on them, pieces of paper with nothing written on them, but will soon be used to record writing both meaningful and meaningless.  Left back pants pocket – wallet.
A bunch of people who didn't know each other were joking around between sets at the Riot Factory and at one point Epstein responded to a wisecrack by saying, "Well, you know, white is the new black."  A teen-aged punk next to me who was fully decked out in tattooed, pierced, safety-pinned regalia regarded his own all-black ensemble and then, with perfect timing, stamped his foot and said, "Dammit!"
I was absolutely positive that there was dogshit on my shoe in the car today.  When I couldn't find it on my shoe I searched every inch of my clothing and all the floormats.  Couldn't find any. 
Starting to wonder whether I should really fly back to Seattle next Monday like I'm supposed to.  Doesn't seem like the right thing to do.  For some reason, I have this hankering to go check out Maine.  Might have to do that.  Can always re-hire the kid (or "The Unpaid Intern" or whatever he's calling himself) to fill in for me at the show on the 26th.
I've been saying, "Wave of the future.  Wave of the future.  Wave of the future.  Wave of the future," over and over again for two days now but Action hasn't seen "The Aviator" yet, so he's super-confused and mildly freaked out.  It's pretty funny.
Our basic setlist:  Jerry, Across the Great Divide, Piss-Bottle Man, Knock Yourself Out, Yours, Alligator Hearts.  Hoping to add Carry the Zero in at the next show.  So far, we haven't played the John Prine song that we'd worked out.
OK.  Enough blathering.
Like I said.  Nothing happened today.
Thursday, February 17, 2005 --  (middle of nowhere)
All hell broke loose today.  Epstein's still manning the helm so instead of posting an update here I helped him out with his Friday diary entry for Slate Magazine.  You can check it out here: 
http://slate.com/id/2113395/entry/0/
Think we might have things figured out.  Hoping to get to Cinci in time for the show.
Friday, February 18, 2005 – Cincinnati, OH
Overcame some burly odds and made it to Cinci with plenty of time to spare for last night's show.  Can't say enough about what a great time this was.  The place was packed with a great local crowd and some of my best friends in the world drove long hours after heavy work weeks just to hang out and see us play.  I haven't been so moved in a long while and it was just too overwhelming and too much to try to catch up with everyone.  Joe (who once kept me from getting any more than my nose busted in a dark alley at four in the morning), Scott (a former chain-smoking cross country star who's turned himself into the most solid and upstanding Family Man I know – truly an inspiration), Dave (born on Halloween and every bit as crazy as he is loyal), Steve (who I nearly convinced to ship me kudzu seedlings from his nursery in central Florida so me and Crutcher could introduce that stuff to the Northwest and stir up some mischief), Jereme (who has a great story about forgetting about a piss test that I won't relate here) and the lovely Amy (who was even more of a help than Joey in that dark alley, and who's brother Matt is also a great friend who opened up his bar for me and Action when we took a lunch-time detour through his small town in southeast Ohio) all rolled down from Cleveland, Troy, Hamilton, and the other side of Cinci. 
This diary so far has been a little too happy and sentimental for my usual tastes, so I won't go into much detail about how much this night meant to me.  I'll just say that it made me curse myself for not living closer to these people who I've learned so much from over the yars and who I continue to look up to and be inspired by.
I think a couple of them might have even enjoyed the show.
After we finished our set we hung around for a while to check out Sybris, a girl-fronted band from Chicago who gave it hell and whose CD I can't wait to play.  Caught up with Mike from The Spectacular Fantastic and was happy to buy him a beer for the help he offered in setting the gig up.  Had a good chat about music and recording, and also yammered quite a bit with Dan the showboss who was a great guy and also into great music.  Met up with a guy who knew Cullen (bass player in the Quinn band back in Seattle) and chatted with some complete strangers.
Overall it was just a great night and I can't wait to get back there sometime.  We loaded up the sled and divvied up the folks and caravanned back to Dave's place where Joey whipped out some home-made wine, home-made sausage, and huge chunks of cheese and bread from Little Italy in Cleveland.  I've been grubbing on these family delicacies of his with reckless enthusiasm ever since we lived together back in the mid-nineties but it's been a long drought and I full-on pigged out on the stuff.  Action got his licks in as well and we had a great visit as everyone wound down and chatted about the evening.  I gave Steve the hard sell on a trip to Australia I'm planning to take next month and if all goes well I'll get him to come with me.  Joey sent me off with my own bottle of his vino and it's wrapped up tight with all the clothes in my duffel to keep it safe. 
Thanks so much to all of y'all for making Cinci such a beautiful stop.  Now it's back to the ho for a short night of konk because tomorrow's hellride to DC is going to be a brown one.
Saturday, February 19,  2005 – Arlington, VA 
Popped at the crack of six bells today and mobbed the free breakfast before hitting the road under cover of darkness.  The sun finally hauled ass out of bed somewhere between Cinci and Columbus while I sucked down coffee to the chatter of more Zappa interviews.  I absolutely love these CDs Action made for the trip – it's like listening to the best talk radio of all time and I can't give him enough credit for putting it all together.  Really makes the drive time fly by.  Still feel bad about the whole driving situation, but it's gotten to the point where I'm so freaked out about the sled's weird steering that Action has refused to let me drive.  It's a good thing he's such a warrior because today was a long one. 
Spun over some road I've never covered before in West Virginia and Maryland and it was good to feel some new ground underfoot.  Stopped off for lunch at a gas station that also sold used clothes and books and had a club sandwich while Action inhaled a burger fresh off the grill.  More incredible weather and I put to rest all the misgivings I'd had about touring in mid-February.  Not sure I'll do it again, though, as I've learned what happens when you push your luck.
Action emailed Watt to ask his advice on venues and the like when we were first putting this tour together and Watt very kindly advised him to stay home or at least please be careful with the winter weather.  His urged us to wait for the spring thaw.  This has caused some problems when we've asked ourselves the time-honored question, "What would Watt do?" from time-to-time over the past week, because the answer has always been, "Watt wouldn't have gotten himself into this mess."  Well, we lucked out on this trip and will probably be smarter about it next time. 
Rolled into DC somewhere around three and I could tell it had an effect on Action as he realized this was his new home.  Found his place after a couple blowbys and I was really impressed at what nice digs he has set up for himself.  Great little two-bedroom house with a yard and a back deck and a screened-in front porch with hardwood floors and a nice old vibe.  No furniture yet so we konked on the bare floor while I did a much-needed load of laundry.  Somewhere around Columbus I started to really stink in a new and unfathomable way.  I have no idea what was going on, but my body was generating odors I've never smelled before.  Even though I ran out of clean clothes in Denver (had been anticipating a laundry stop there, but things didn't work out as I'd planned) I don't think you can blame that stench on bar-stained clothes.  I mean, I full-on smelled like I'd been sleeping in a gutter for two weeks.  Action was gagging the whole way from the Ohio border to DC and I was even a little nauseated myself.  I smelled like a hobo.
Anycase, after a nap and some laundry and a shower I felt a thousand times better but still kind of beat as we loaded up the sled one last time for the final gig of the tour.  Caught ourselves some chow at a diner next to the venue and laughed our faces off at a classic Simpsons episode (the one with the hobo telling stories for spongebaths in the boxcar, I shit you not).  Then it was over to Staccato's for load-in, soundcheck, and an unnaturally early 8:00pm start time.  It was bad management, and we ended up playing to a pretty small crowd that was just starting to grow and get exciting by the time we finished.  It was a solid and competent set, but almost anti-climactic after last night's reunion in Cinci.  Epstein was on fire and I wished I could just listen to him crank out solos all night long.  It was a good introduction to his new town and he made a great first impression.  Everyone who was there had nice things to say, and the drummer from the second band was so taken by our use of loops that he actually approached me mid-song on the stage and said, "how are y'all *doing* that?  It's only two of you!" which was one of the nicest compliments of the tour for me, especially coming from another band.
Action's buddy Toby was also there, who's a bit of a DC stalwart and who recently finished a huge project putting music online for the Smithsonian.  He was a huge fan and will no doubt be a powerful and important ally in Action's quest to lay waste to the DC music scene. 
Headed back to Action's pad after the show and unloaded the sled for the last time, which was a pretty sad affair.  It's only been ten days, but that's plenty long enough for ghosts to have grown in that tiny Subaru we've been living in and I waved goodbye to them as we locked her up.
Just before konk-time, I whipped out a couple of cigars I've been holding for years which were given to me by two very good friends, both of whom opened their homes to me at different times in different places when I had nowhere else to go.  I'm not much of a cigar smoker, and I'm pretty sure Epstein turned pale at the very thought of it, but we both humored the ritual and took a good long walk through his new neighborhood and puffed on those things like a couple of good ol' boy CEO types.  Kind of kitschy, but a pretty cool way to close the hatch on such a tremendous week.  Back at the house, I wrapped up in the green blanket we've been using to keep the keyboard safe and konked on a pile of warm, clean laundry. 
Sunday, February 20, 2005  --  Arlington, VA
Popped after only a couple hours of sueno around 6:00 to say goodbye to Action Epstein, who hauled over to the airport to fly back to Seattle and retrieve his cat.  Glad it was such an ungodly hour and so rushed because it made things much easier.  Said farewell and good luck and many many thankyous and then it was back to the deck for more konk, which lasted until around 11:00.  Good long day for Shabark to peg around DC and check things out.
Headed down to the national mall and snapped a great picture of the Washington Monument with a tacky souvenir stand and a porta-john in front of it.  Perfect.  Then off to the Hirsheld Museum of Modern Art at the Smithsonian where I tripped out on a handful of really cool paintings.  Most of the stuff they had was sculpture which I didn't get into, but there was an amazing one by a British woman which was basically a dental mold of some library stacks – sort of "the absence of" library shelves.  It hit me so hard that I accidentally walked across the white line on the floor to get a closer look which nearly earned me a beating at the hands of two rabid-looking security guards.  Sorry, folks.  Meant no harm.
Then it was off to Georgetown where I called my pal Tindall (who went to school there) from a payphone to ask for advice on where to get a good burger.  He sent me to an underground place called the Tombs and I was able to find it by paying a nice homeless guy a few bucks for directions.  Knocked back a righteous burger with fries and sampled the Tombs' own brew and got to chatting with a guy named Konrad who'd been home-schooled in Virginia while working on both Clinton campaigns and is now having a hard time adjusting to the institutional games of marco polo he's required to deal with in order to snag a degree from Georgetown.  Very intelligent guy with a lot of interesting things to say and I bummed some knowledge off him about International Law which I still don't quite get but was eager to hear about.  Turns out he also plays guitar and I gave him a few band names to write down in a little notebook he had and also pawned off a copy of "More Shit…" which I hope he'll enjoy.
Konrad knew some girls who lived around the corner from the bar so we settled up and headed that way but were disappointed to find out that the three fun ones were gone, leaving only the one he didn't get along with for some reason.  Not sure what the story was, but she was both beautiful and unwavering when she announced that she was in a hurry to meet someone and didn't have time to hang out.  Bummer.
After that, a quick peg and a guided tour of the Georgetown campus where we strolled through one of the great old buildings and checked out a classroom where many famous people have scribbled down notes on Aristotle and whatnot.  We rested there while Konrad rolled himself a number and I checked out the huge framed portrait of Thomas Jefferson on one wall, a quote from the book of Isiah on the other, and the perfectly appropriate quote "I (heart) Goblins" scrawled across the chalkboard. 
After more good yammering with Konrad about all things life-oriented I made my exit and caught a cab back to Epstein's empty pad.  Konk came pretty easy after such a long day on the pegs and the hard floor didn't bother me a bit.
Monday, February 21, 2005  --  Washington DC
Popped around 8:00 this morning and got Action's pad in order for my final departure.  He gets in early tomorrow and I wanted to make sure I cleaned up all the peanut shells and Gatorade bottles.  Just before leaving, I grabbed Action's banjitar and strolled through the house, introducing myself to the resident ghosts and telling them how lucky they are to have Epstein coming to live with them.  I sang them a few songs and told them a few stories and then I arranged a few tribal figurines on the floor to ward off any unwelcome visitors until Action made it back home.  Grabbed up all my stuff, left some cash for Action to ship my bass and keys back to me, and then it was out the door for good and under the mat with the housekeys. 
I'm booked on a flight back to Seattle from Baltimore today, and just now bought a ticket to get up there by train.  The train goes all the way to NYC, where a bunch of folks I know are starting to congregate.  Haven't been there since way back in '96 and now, sitting in DC's Union Station, it occurs to me that this trip doesn't really have to end here.  We've got a show lined up this Saturday with The Nevvers and the always-amazing Sleepy Workers back in Seattle, but I can always re-hire the Kid and have him take my spot.  He knows that stuff better than me, anyway, and the guys in the band are still pissed about that whole mess with the X-Box last month. 
Need to fire off this last journal entry to fulfill my agreement with HomeGrownNoodles, but after this I got some serious thinking to do.  Dodging train conductors isn't that tough.  I once did it from Whitefish, MT all the way to Chicago.  I could be in NYC by dinnertime and veering off on a whole new trip.  Could also make it up to Maine, where I've been itching to go for some time now.  Cold up there.  Good thing I didn't shave off the whiskers. 
Battery's running low so need to sign off.  One last final thanks to all the folks who came out to see The Crispin Glover, all the great folks at all the venues who were so nice to us, and all the good folks we met along the way.  And especially to Jonny Action Epstein, who I'll always be able to say I was in the greatest band on the earth with just before he rose up and slew the DC music scene like a nine-headed hydra with a magical two-handed sword +27. 
Keep it ripe.
Take it slow.
-quinn